Best Spring Stage Sets for Your Church
For many churchgoers, the look and feel of the church's stage are just as important as the sermon itself. While this may not be true for every churchgoer, it's certainly the case for many. That's why it's important to think about your church's stage decoration – especially during springtime. Church stages have come a long way since their humble beginnings – they now often feature intricate decorations that can give an extra boost to any service. So, what are some great Spring stage ideas that you can do for your church? Here are nine spring stage ideas:
Brightly Colored Flowers
Green Plants and Trees
Crosses
Colorful Streamers
Lanterns
Rustic Birdcages
Bunnies and Chicks
String Lights
Spring-Themed Artwork
In this blog post, we will share nine great spring stage ideas that will add life and color to your church's stage. We will also discuss why churches began using stage sets, the benefits, and disadvantages of seasonal stage sets, how to decorate your stage on a budget, and alternatives to rotating stage sets.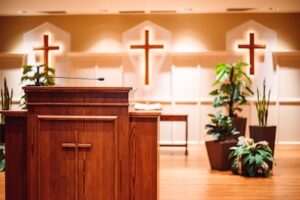 What Is a Stage Set for Church?
A church stage set is a type of decorative setup used to enhance services. It can include items like banners, lights, plants and flowers, and props that create an atmosphere that helps engage worshippers in worship during the service.
Many churches use different types of decorations for different seasons. For example, many churches display Christmas trees during December or hang autumn wreaths in November.
When Did Churches Start Using Stage Decor?
The earliest known examples of stage decoration at churches date back to the mid-19th century. At this time, churches began installing stained glass windows, mosaics, and other decorative elements as a way to express their devotion to God.
In the early 20th century, churches began creating more elaborate stage sets with different props and scenery. This allowed them to create an atmosphere that was reflective of the sermon being given or the season occurring during the service.
Benefits of Seasonal Stage Sets
There are several benefits to seasonal stage sets. First and foremost, it helps bring a sense of unity and continuity to church services throughout the year. This can create anticipation for services as members look forward to seeing what new decorations or props will appear on the stage each week.
For churches that host special services during the springtime, an eccentric or exciting spring stage set can be a fun way to reach new believers.
Additionally, seasonal stage sets can help engage worshippers in the service and provide more visual stimuli during the sermon. This can make services more interesting and memorable for those attending.
Disadvantages to Stage Decor at Church
One potential downside to using stage decorations is that it can be time-consuming and costly to install and maintain them.
Additionally, if not done properly, they may distract from the main focus of a service: worshiping God. It's important to ensure that any decorations used are not distracting or inappropriate for a church setting.
How to Decorate Your Stage on a Budget
Decorating your church's stage doesn't have to break the bank. There are several ways you can decorate your stage on a budget.
For starters, try using second-hand items from thrift stores or garage sales. These can be used to create unique decorations without spending a lot of money.
Additionally, consider asking members of your congregation for donations of props or decorations that they may not need anymore. This is an excellent way to find creative and inexpensive décor for your church's stage.
Alternatives to Rotating Stage Sets
If you don't have the time or resources to change out seasonally themed stage sets every month, there are alternatives available.
You could opt for setting up a permanent collection of decorations that can easily be rearranged and switched around as needed. This is an affordable and low-maintenance option that can still provide a great atmosphere for your services.
You could also use projection mapping or video walls to create a more dynamic and engaging experience. This allows you to instantly change the visuals on your stage as needed, while still keeping it visually stimulating and engaging.
Nine Great Spring Stage Ideas for Churches
Now that you know how churches got started using stage decor, the benefits of seasonal stage sets, how to decorate your church's stage on a budget, and alternatives to rotating sets, let's dive into nine great spring stage ideas!
1. Brightly Colored Flowers
Brightly colored flowers in various shapes and sizes can bring life to any spring service. Use potted plants or flower arrangements with cheerful yellow daisies, purple pansies, and pink tulips to create a beautiful setting.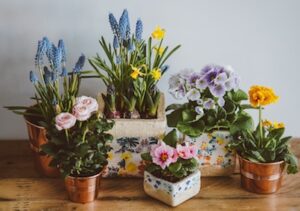 2. Green Plants and Trees
Adding lush green plants or trees to your stage will provide an earthy tone that will bring a sense of serenity to any service. Place tall evergreen shrubs on either side of the podium to create a calming atmosphere.
3. Crosses
Springtime in the Christian church is largely focused on Easter and the death and resurrection of Jesus. To create a meaningful service, place crosses on either side of the podium or draped in front of the stage to serve as a reminder of His sacrifice.
4. Colorful Streamers
For a fun, festive atmosphere, use colorful streamers hung from the ceiling in various shapes and sizes. This is an inexpensive option that can be used for any occasion throughout the spring season – from Palm Sunday to Easter!
5. Lanterns
Hang rustic lanterns from tree branches or columns on either side of your stage as a nod to Christ's light being brought into our lives every day. This will add a soft ambiance while also reminding people of His presence with us all year round.
6. Rustic Birdcages
Hang a few birdcages from the ceiling for an unexpected, whimsical touch to your stage decor. This is a great way to add charm and warmth to any church service during the spring season.
7. Bunnies and Chicks
No spring décor is complete without bunnies and chicks! Place fluffy stuffed animals around the stage for an extra dose of cuteness and a reminder of the new life that comes with spring.
8. String Lights
For a dreamy, romantic atmosphere, hang string lights around the stage for a twinkle of light and warmth. This is sure to bring a cheerful brightness to any service during the season of new beginnings.
9. Spring-Themed Artwork
Hang up some artwork with a springtime theme on the stage walls, such as colorful paintings of nature scenes or cheerful photographs of flowers and birds. This will provide your congregation with something pleasant to look at while they attend services.
These nine great spring stage ideas are sure to bring a festive atmosphere to your church's services that everyone can enjoy! Whether you opt for bright flowers, green plants, rainbow lights, or any of the other ideas listed above, it's sure to make your church's stage more inviting and cheerful.
Who Is In Charge of Stage Decoration at Church?
The stage decorations at any church are typically managed by the worship team and/or the pastor. They are tasked with ensuring that all of the decorations within the service space match the overall tone and theme of each service.
They also need to make sure that all decor is properly secured so as not to create any hazards for those in attendance.
Final Thoughts
It's important to remember that stage decoration should always be done in a way that honors God and draws attention to Him rather than becoming a distraction or taking away from His presence.
With these tips in mind, you can ensure that your spring stage decor will be both beautiful and uplifting!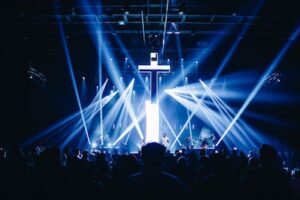 Related Questions
How often should you change your stage set at church?
The frequency at which you change your church's stage set will depend on how often services are held and what type of service they are. Typically, churches will change their stage set at the onset of a new season or for special occasions such as Easter or Christmas.
Some churches may choose to rotate the stage set monthly, while others may only change it a few times a year. Ultimately, it is up to each church's leadership to determine how often their stage should be changed.
Are there any drawbacks to using seasonal decor in church?
While using seasonal decorations can be a great way to celebrate special events and holidays throughout the year at church, some people may find that rotating sets too often can become overwhelming and take away from the spiritual experience of attending services.
Additionally, it can also be expensive and time-consuming to regularly purchase and install new decorations. For these reasons, it is important to consider the pros and cons of seasonal decor before implementing them in your church services.
Should you decorate the children's Sunday school rooms seasonally?
Decorating the Sunday school rooms seasonally can be a great way to make learning fun and engaging for the kids. It is also a great opportunity to teach them about different holidays and traditions that are celebrated throughout the year.
However, it is important to ensure that decorations are age-appropriate and not too distracting from the lesson. You may also want to consider whether or not your church has enough funds to purchase seasonal decorations on a regular basis.