Honoring Your Church As a Volunteer
Volunteering at your church is a great way to show respect and appreciation for your church and the Body of Christ as a whole. Not only does it demonstrate gratitude, but it also provides an opportunity to be part of something larger than yourself. Volunteering can positively affect both members and non-members of the church, making it an invaluable service beyond simply helping out with small tasks.
So, how do you honor your church as a volunteer? The best way to honor your church as a volunteer is to approach it with an attitude of service and humility. It's important to remember that volunteering is a way of giving back to the community and honoring the Lord. Keep in mind the importance of selflessness, as well as remaining humble enough to take direction from others.
In this blog post, we'll take a look at why it's important to volunteer at your church, the benefits of volunteering at your church, and ways to volunteer that honor, God. We'll also discuss some things to consider before you sign up as a volunteer, as well as how to find a good church body.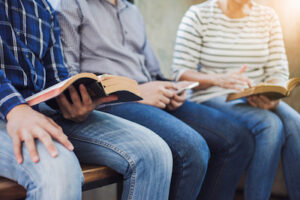 Why It Is Important To Volunteer At Your Church
Volunteering is an essential component of keeping any organization or institution running smoothly. Churches are no exception; they rely on volunteers for many tasks like maintenance and administration.
Moreover, churches need volunteers who can help with teaching and youth ministries, community outreach programs, and other activities like bible studies. Without the support of willing volunteers, these vital activities wouldn't be able to continue.
Benefits Of Volunteering At Your Church
Aside from the obvious benefit of helping others and supporting your church, there are several other advantages to volunteering at your church:
You can gain valuable skills that can be used in other areas of life.
You will build relationships with people in your church community.
You will become an integral part of the church's mission and vision.
You will have a sense of purpose and fulfillment through service to God's people.
And you'll help create an atmosphere of love, acceptance, and hospitality for those who enter the doors.
Ways To Volunteer At Your Church
When it comes to volunteering at your church, there are a number of ways you lend a helping hand. Here are just a few ideas:
Help out with the Sunday school program or children's ministry.
Assist in outreach ministries such as food pantries and homeless shelters.
Organize events or activities that will help spread the Gospel.
Help clean up around the church grounds or maintain equipment and supplies.
Be a greeter for Sunday services and make people feel welcome in the building.
How Can I Find Volunteer Opportunities at My Church?
Most churches have a website or social media page that lists their current volunteer openings. It's also a good idea to talk to the pastor or staff members to find out more about the kinds of opportunities available.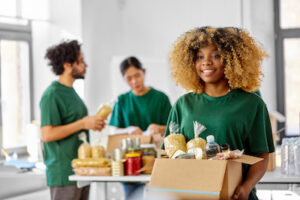 How To Find A Good Church Body To Volunteer At
The first step in finding a good church body to volunteer with is to pray and ask God to lead you to one that fits your values and beliefs. Additionally, do your research and look for a church that has a good reputation in the community. Ask around to get recommendations from people you trust.
Once you've found a few potential churches, take some time to attend services at each one and observe how things work. Take note of how welcoming the members are and how organized the church is. Also, find out what kinds of volunteer opportunities they have available.
Finally, be sure to ask plenty of questions about their mission statement, goals, and policies before committing yourself as a volunteer. That way you will know exactly what you're signing up for and if it's something that resonates with you spiritually.
How Volunteering At Church Honors God
When you volunteer at your church, you are honoring God by living out His commandment to "love thy neighbor." It also shows that you believe in the teachings of Christianity and it demonstrates a willingness to use your time and resources for the benefit of others.
As a volunteer, you can help spread the Gospel message and share Christ's love with those who need it most. Through volunteering, churchgoers help churches reach the nations.
You can be an example to others and serve as a reminder that God is our strength and salvation. Your service will help create an atmosphere of community, unity, and purpose within the church body.
Is Volunteering at Church Required In the Bible?
While the Bible does not require Christians to volunteer at their church, many passages suggest that it is a good way to use our resources and time for the Lord.
The Apostle Paul wrote in his letter to the church in Rome: "Let us not become weary in doing good, for at the proper time we will reap a harvest if we do not give up" (Galatians 6:9). Paul also encourages Christians to be generous with their time and money when it comes to helping others.
It is clear from this passage (and many others) that by volunteering at your church, you are honoring God and displaying His love for all of us.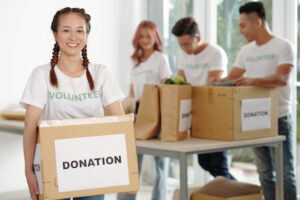 Things To Consider Before You Volunteer At Church
Before signing up as a volunteer for your church, there are a few things you should consider.
Expected Time Commitment
First, find out what kind of commitment is expected and be sure you're ready to make that commitment. It's important to make sure you can balance volunteering with the other aspects of your life. You don't want to overextend yourself and become overwhelmed.
Skills And Experiences
Second, evaluate the skills and experiences that you can bring to the church. Not all volunteer positions require special training or expertise, but some do. Make sure you have the necessary qualifications before accepting a position.
The Right Fit
Finally, ask yourself if this is something that you really feel passionately about doing. Is it in line with your beliefs and values? If not, it may be best to look for other ways to serve God and your church community.
Final Thoughts
Volunteering at your church is an excellent way to honor God by putting His love into action through service to others. When done right, it can be a rewarding and fulfilling experience for both the church and its members.
With the right motivation, you can use your time, resources, and talents to make a real difference in someone's life.
Related Questions
How do I know if a church is right for me?
Choosing the right church for you is a very personal decision. It's important to do your research and find out more about the church's beliefs and values before joining. Additionally, take some time to attend services or events at different churches to get a feel of the atmosphere and see if it resonates with you.
How to know if you are overcommitting as a church volunteer?
It's important to be honest with yourself and your church about how much time and energy you can give. If you find that it's becoming too much, don't be afraid to ask for help or to step back from your commitments. It is also important to set realistic expectations from the beginning so that there are no surprises down the road.